A chocolate bar packaging design is inspired by the 'whole chocolate bars' found in the short story Chick-A-Chee by Souvankham Thammavongsa in her published book
How To Pronounce Knife
. The design for the bar is a reflection of the parallelism found in the story. Following the perspective of a young girl through the good and bad parts of childhood experienced through different interactions involving strangers at the front door. The chocolate bar's design similarly includes an interactive peel-away top panel, emulating a physical door. Inside the panel, there is either prose poetry of the 'good' nostalgic trick-or-treating experience or the 'bad' fear-induced hiding experience referenced in the story.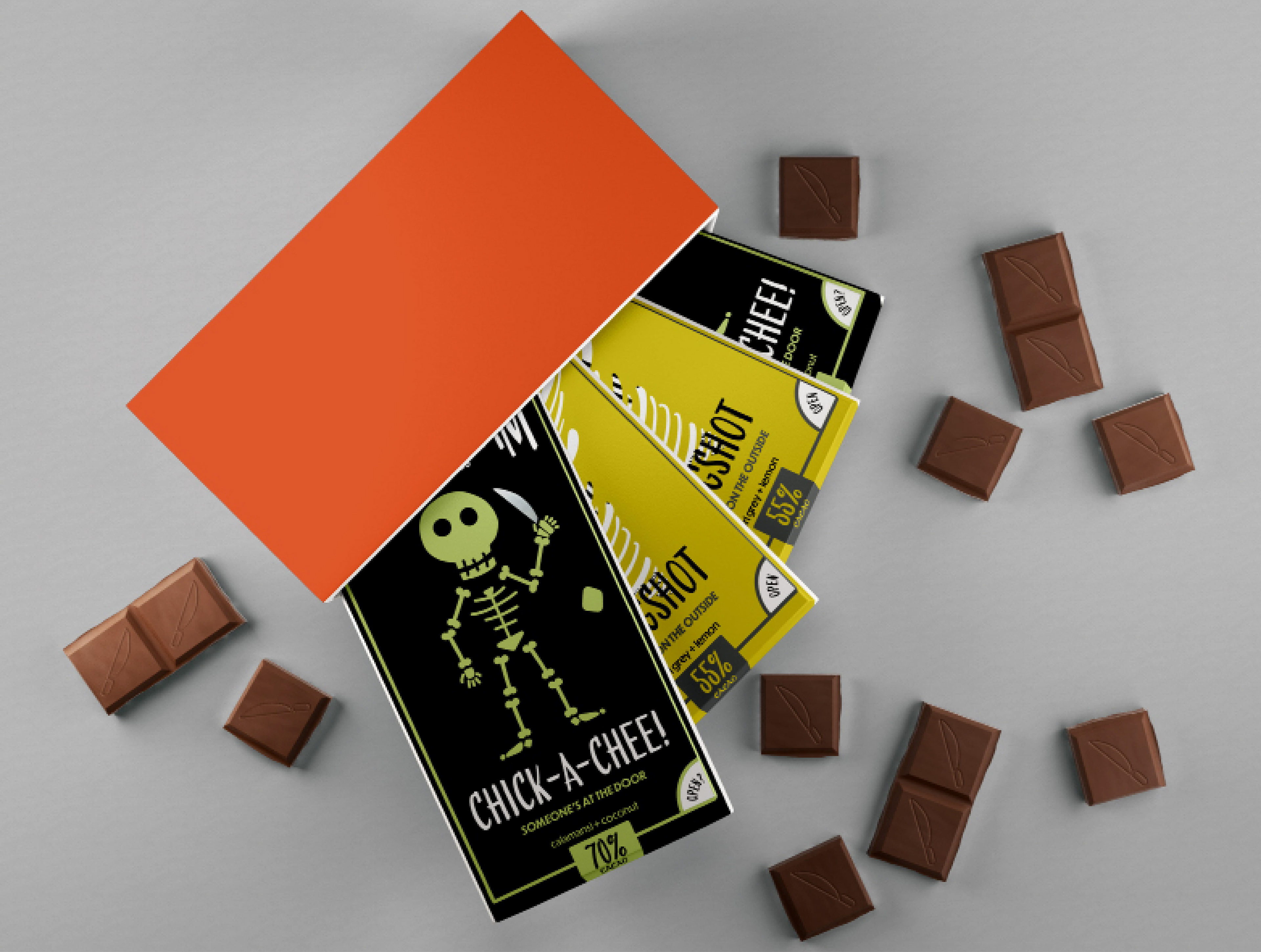 Other notable elements of the chocolate bar's design include Book Facts as a stand-in for nutrition facts customarily found on the back of food packaging. The facts detail the important story beats in Chick-A-Chee while subtly adding some cheekiness characteristic of the author's writing. The internal bar wrapping includes some dialogue from the text that emphatically demonstrates the duality of the story in the back and forth between characters. 
For all design elements, the header typeface has a distinct humanist style that is heavy in appearance yet visually dynamic, echoing the writing style in
How to Pronounce Knife
. The secondary typeface is more clean and playful, highlighting all the lighter parts of Chick-A-Chee. 
Black and neon green are colours found in the text from the story around the child's glow-in-the-dark skeleton Halloween costume. These further illustrated the idea of opposition found in the story and complimented the design of a modern chocolate bar. 
Other deliverables included the chocolate bar collection box. Each story from the book has a unique chocolate bar flavour and design inspired by the central theme of that particular story. Together, they create the collection of story-telling by Thammavongsa and her characters' interactions throughout How to Pronounce Knife.